ROLE PLAY COSTUMES | Raleigh, NC
If you're looking to spice up your sex life, consider bringing some sexy lingerie costumes to compliment some of those role play ideas and role play scenarios. Maybe your partner has day dreamed of you in maid lingerie like those porn stars or for you to pretend to be a sexy call girl. Adding some of these spicy ingredients can turn a lap dance into an unforgettable experience. Whatever the fantasy, Adam & Eve has what you need to bring your role play dreams to life and to add some energy to your long term relationship!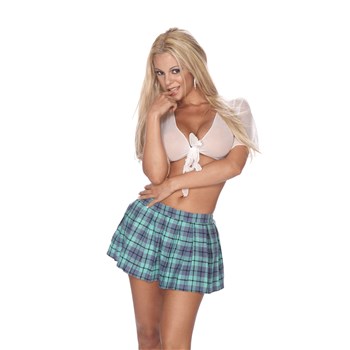 This Sexy Role Play Costume Is Sure To Put You At The Head Of The Class. Give Him A Sneak Peek At Your Nipples In The See-Thru White Tie-Top. We Encourage You To Show A Little Booty In The Sexy, Pleated, Blue Plaid Mini-Skirt! Every Bad Boy Loves A Sexy Coed – So Pick Up Your Adult Roleplay Coed Costume Today. Come To Us At Adam & Eve For All Of Your Role Play Costume Ideas.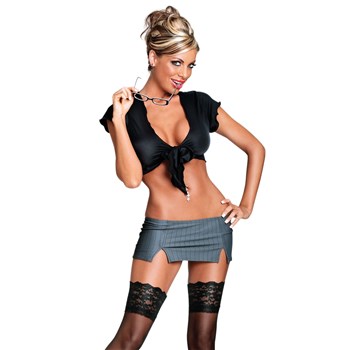 Swap Out Your Casual Fridays, For A Hot Saturday Night In. With This 2-Piece Office Scandal You're Sure To Be Holding More Than Just His Attention. Keep His Appointments With Ease In A Flirty Black Crop Top That's Open For Business. This Role Play Outfit Comes With A Micro-Mini Grey Pinstripe Skirt That Will Guarantee Many A Raise! With You As His Very Private Secretary, This Couples Role Play Costume Will Prove To Be One For The Books. Buy The Kinkiest Secretary Movie Yet To Help With Your Role Play Fantasies! Perfect Secretary 3: New Recruit Stars Chanel Preston In Her First Interracial Scene. Get The 2 Disc Set Now!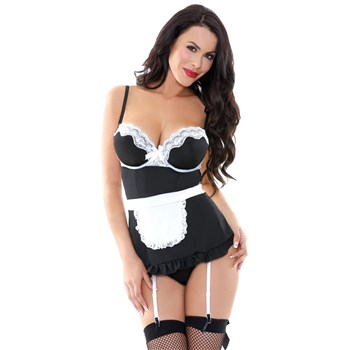 You'll Spend More Time Making Messes Than Cleaning Them Up With This Sexy Maid Bedroom Costume! Great For Fantasy Role Playing, The Naughty Service Maid Bedroom Costume Comes With Molded Cups That Are Fully Padded And Lined With Underwire To Give Your Cleavage An Impressive Boost. It Also Comes With An Apron-Cut Babydoll Trimmed In White Lace And Bows For That Classic French Maid Look And Style.The White Ribbon Belt Ties In The Back, Giving The Costume A Faux Skirt Even Though The Back Is Slit Down The Middle To Show Off The Ruffled Lace Panty.
The Black Panty Is Lined With Rows Of White Lace In The Back And Features Adjustable White Garters That Can Be Removed So That You Can Wear The Costume With Or Without Stockings, Which Are Not Included.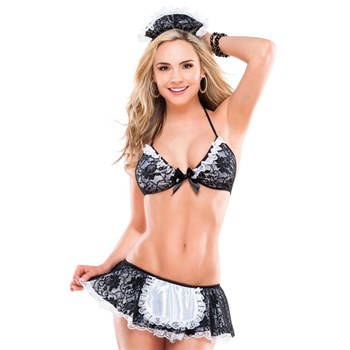 Be The Naughtiest Hired Helper Ever In This Sexy French Maid Costume! This Hot Three Piece Lingerie Set Comes With A Stretchy Soft Cup Top, A Ruffled Skirt With Built In G-String Panty, And Even A Lace-Accented Head Piece To Complete The Look. Great For Couples Role Play, Or A Racy Halloween Party. Get Out Your Favorite Feather Duster, And Suit Up For Naughty Role Playing Fun In This French Maid Costume. The Bikini-Style Bra Top Ties Behind Your Back And Halters Behind Your Neck For A Look That's Simply Scandalous. Make Sure To Bend Over Really Far To Dust Those Hard-To-Reach Areas… Your "Employer" Will Love Getting An Eyeful Of Your Body In The Ruffled Skirt With Its Built-In G-String.
Complete Your Costume By Putting On The Included French Maid Costume Headpiece. The Lacy Headpiece Is Sewn Onto A Flexible Headband, So You Can Just Put It On, No Need For Hair Pins Or Up Do's.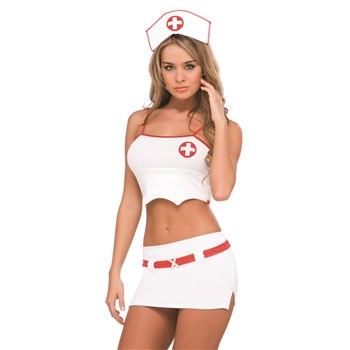 Does Your Mans Fantasy Include Seductive Sponge Baths, And A Sexy Nurse Who Can Cure Whatever Ails Him? Role Play Costumes For Guys Who Love A Naughty Nurse Are Available At Adam & Eve. Show Him Your Bedside Manner By Slipping Into This Sexy Three Piece And Give Your Man The "Special Treatment" To Heal All Of His Aches And Pains.
Looking For The Perfect Video To Watch During Your Nurse Roleplay Sessions?  Rose Valerie, Night Shift Nurse Is Just What The Doctor Ordered!  Buy The DVD Now!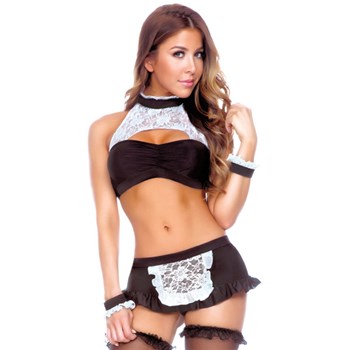 Ideal For Fantasy Role Playing, The French Maid To Order Costume Is Perfect For Spicing Up Your Love Life, And Can Help You Get Your Bedroom "Squeaky" Clean. Your Man Will Be Interrupting Your Daily Chores, And Substituting Some Other Chores For You Between Tasks. This Role Play Costume Features A Mini Skirt With A Faux Lace Apron In The Front And A Ruched Rear. It Also Comes With A Soft And Stretchy Top That Has A Revealing Cut Out For Your Cleavage.
The Lacy Collar Choker Attaches Around Your Neck, While The Halter-Style Top Ties In The Back For An Adjustable Fit And This Sexy Costume Also Comes With A Pair Of Cuffs And Matching G-String.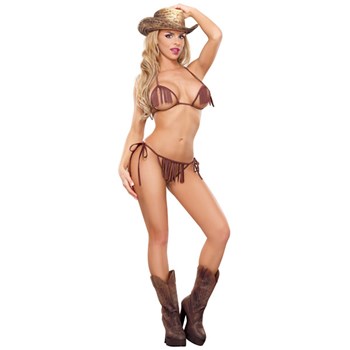 Your Cowboy Will Love The Naughty Wild West Costume, It Keeps Your Saddle Covered, But Just Barely, By A Fringy Adjustable Thong. The Naughty Wild West Costume Comes With A Sexy, Cupless, Rawhide Looking Nylon Bra That Adjusts For A Custom Fit. This Role Play Costume Will Keep Your Cowboy Happily Holed Up In Your Homestead.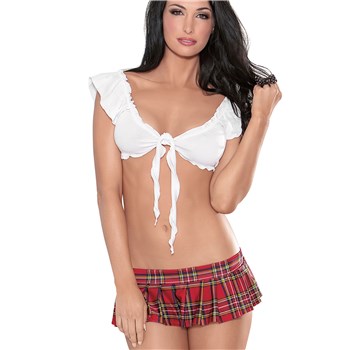 Get Dressed For A Steamy Study Session! This Naughty Uniform Will Earn Any Eager Student An Instant Write-Up. Detention Just Got Nasty. This Sexy Schoolgirl Role Play Costume Definitely Violates Dress Codes. The Ruffled Elastic Band Top Ties Between Your Breasts To Show Off Tons Of Cleavage And Skin. Perfect For Role play Fantasies! The Ruffled White Top's Stretchy Elastic Reveals So Much Cleavage, And The Tie Front Lets You Pop Right Out Of The Top If The Mood Strikes. The Plaid Micro Mini Skirt Barely Hides Your Buns, So Be Careful How You Bend Over Teacher's Desk, You May Just End Up With Your Skirt Flipped Up For A Naughty Spanking.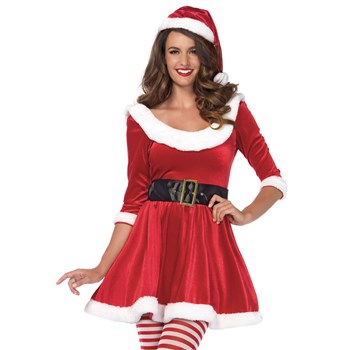 Be The Life Of The Party In This Instantly Recognizable Santa Sweetie Costume. Made With Red Velvet And Faux Fur Trim, This Role Play Outfit Comes With A Matching Santa Hat, And An Oversized Black Belt With A Gold Buckle. Sensual And Sexy Red Velvet Catches Holiday Lights And Appreciative Gazes. The White Faux Fur Trim And Scoop Neckline Is Enough To Tickle Anyone's Fancy. Brighten Your Holiday Fun With This Brilliant Red Velvet Costume, Trimmed In Sexy Fake Fur!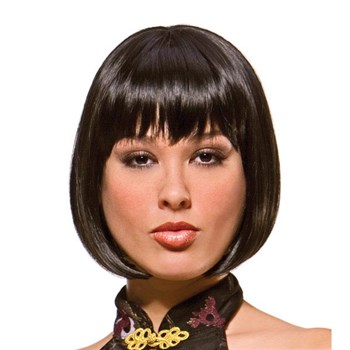 Use This Wig During Your Role Play Fantasies To Transform Yourself Into A Mysterious Figure You Won't Even Recognize In The Mirror!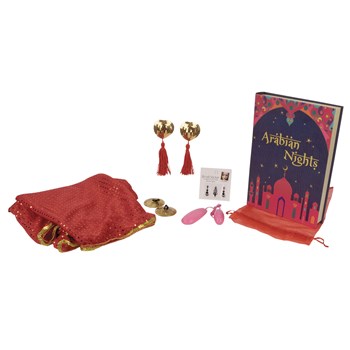 Turn Your Bedroom, Or Next Get-Away, Into An Exotic Locale, Full Of Adventure, Mischief, And Sex! Add Your Own Imagination And Fantasies For Erotic Flights Of Fancy With This Fun Kit. And It All Stows Away Inside This Innocent-Looking Book On Your Shelf.
Arabian Nights Fantasy Kit
Complete Roleplaying Kit That Stores On Your Bookshelf
Adjustable One-Size 56" Long Hip Sash For Dancing Has Baubles, Beads, Faux Coins Attached
8 Foot Long Shawl
Self-Adhesive Gold Nipple Pasties With Red Tassels
Metal Finger Cymbals
3 Removable Self-Adhesive Forehead Bindi Crystal Tattoos
2" Long Vibrating Bullet With Controller (Uses 2 AA Batteries, Sold Separately)
Organza Drawstring Storage Bag
Sturdy Book Shaped Box Is 7.5" X 11" X 2" Deep
Stick A Bindi Crystal Tattoo On Your Forehead, Tie The Hip Sash On Over Lingerie (Or Your Bare Body), Add The Shawl As Needed, And Entice Your Lover With Your Sexy Dance. Use The Finger Cymbals To Summon Up Your Past Life As A Harem Queen, As You Twirl The Tassels On Your Nipple Pasties!
Once The Hip-Shaking Starts, The Finger Cymbals, And The Beads-Coins-Baubles On Your Sash Will Conjure Up A Far-Away Bazaar. Then, When The Moment Is Right, The Vibrating Bullet Is Ready To Turn Up The Passion!
Store Your Entire Arabian Nights Fantasy Kit Inside Your Hardback Copy Of The Arabian Nights Book –– Hollowed Out For Your Convenience –– Because It's What's Inside That Counts! Or Take Your Kit On The Road Inside A Convenient Organza Drawstring Storage Bag.
The Arabian Nights Fantasy Kit Is Recommended For Couples Role Play, And Individuals Who Want To Be Ready For Some Sexy Role-Playing! This Kit Has Everything You Need, All You'll Need Is Your Partner.